Cultivation area biological reaction equipment
Pilot-scale production-grade culture device (Polygerm A series)
Pilot-scale production-grade culture device (Polygerm A series) - Fully automatic control microbial cultivation device
30L ~ 300L for Bioreactor / Fermenter
Polygerm A series features:
Humanized 3D graphic HMI, automatic operation to do vessel and medium sterilization in place and stable and auto-control of various culture conditions. It is widely and flexibly applied from experimental amplification to production conditions, suitable for all types of stirring suspension culture microorganisms.
A variety of open parameter settings, more accurate setting of suitable culture modes and conditions, effective implementation of high-density culture or secondary metabolism induction.
Powerful touch screen HMI, full-color graphic control visual intuitive control interface.
Equipped with a USB external port, can easily download real-time records, alarms or upload historical records for online real-time comparison.
Stable and reliable aseptic tank tubing for validation, zero pollution and stable and reproducible validation of the culture target.
Diversified cultivation methods: batches, feeding batches, semi-continuous, continuous.
A variety of ventilation strategies are suitable for: aerobic, anaerobic and micro-anaerobic cultivation of microorganisms.
Cultivation target: microorganisms, bacteria, fungi, yeasts, algae and relative primary or secondary metabolites.
Equipment origin: Taiwan - Factory registration number 07-002315.
National Quality Inspection Guarantee
The pressure vessel has passed the industrial inspection. The safety is guaranteed.
In accordance with the provisions of the law of the Republic of China CNS9788, only those who pass the inspection are allowed to manufacture, design and use.
15" color TFT HMI
Automatic vessel/medium sterilization, CIP function, automatic weighing and feeding program‧ automatic cultivation control program
Fully automatic industrial-grade PLC control artificial intelligence program, built-in air, automatic sterilization, CIP function and automatic batching, automatic control of cultivation items-temperature, stirring speed, pH, DO, ventilation, tank pressure, defoaming, feeding …, Just "One Touch" to finish the automatic procedure , eliminating personnel training and misoperation, avoiding contamination, ensuring complete reproduction of the process and consistent product quality.
Large 15-inch screen, wide viewing angle, easier operation!
15-inch screen, TFT 65,535 color LCD full-color HMI touch panel, convenient for the operator to input data and watch the operation situation. 3D real-time dynamic display of real objects, humanized and friendly graphic control interface, real-time action icon effect, real data display record, almost no operation manual, reducing the occurrence of misoperation.
Cultivate a dynamic picture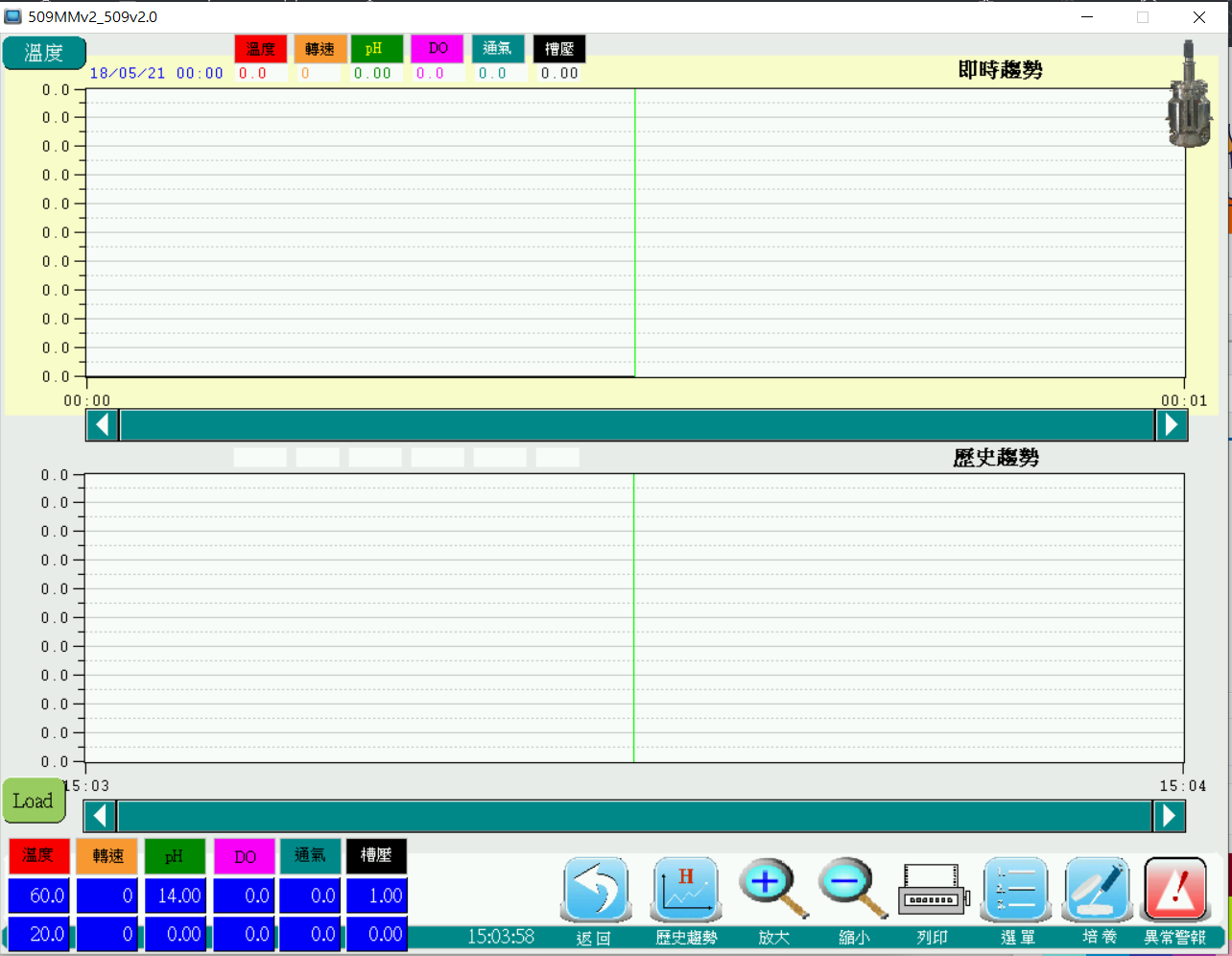 Real-time trend comparison history record screen
Powerful memory, doesn't need PC or NB for datalog
Real-time culture trend graph datalog. Internal continuous recording storage up to 60 days (custom sampling rate). The line shape of the screen can be zoomed in or out, for real-time observation and comparison of the whole page or detailed line style. The USB flash drive is quickly downloaded into xls format, which can be accessed directly online for data analysis and reporting. Online and old data for real-time comparison
Free online remote control
Free VNC APP software download, real-time remote monitoring after running wireless wifi or Internet connection, suitable for smart phones, tablets, laptops, and PCs. Wiring-free does not require the purchase of remote computer remote control software.
High durability, simple maintenance, durable operation, maintenance-free equipment
Waterproof control box with stainless steel hairline shell increases cleanliness and strength. More than 70% of the valves and sensors use German brands, and the rest of the valves and parts use Japanese or Taiwanese brands. Some of the parts are normally lubricated , keep the air clean. No need to do maintenance for 10 years.
The barrel groove is polished and the weld bead is processed
The tank body (inner tank SUS316L, jacket SUS304) has been passivated by welding bead, at least five manual mechanical polishing, and then surface EP electrolytic treatment (inner surface contact Ra≦0.42μm, outer surface Ra≦0.6μm). The surface roughness of the barrel tank is tested for polishing. Three points are randomly taken inside and outside the tank and tested with a surface roughness meter. The piping control unit is checked by an endoscope, and the internal polishing thickness is indeed achieved and the validity is proved.
Endoscope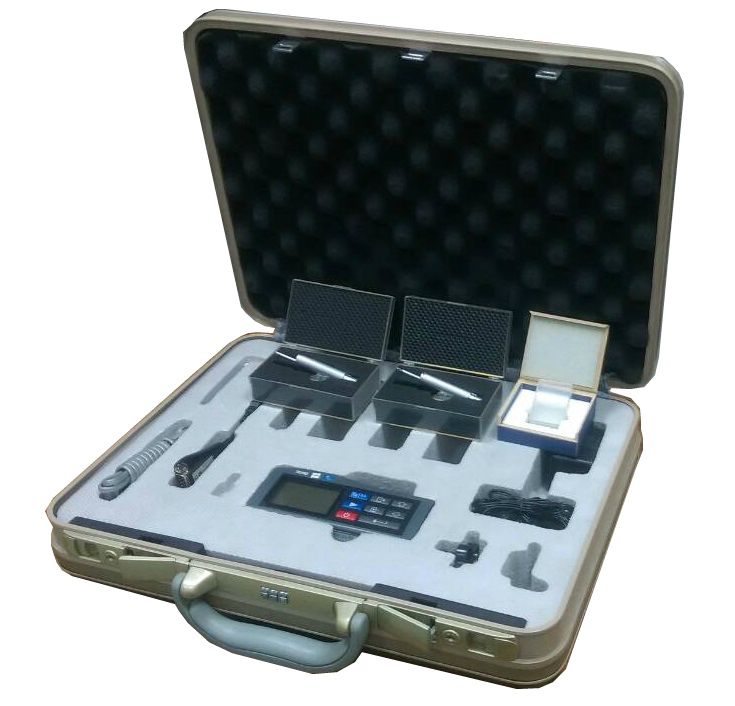 Surface roughness meter
The automatic dosing and feeding diaphragm valve group makes the operation of bacteria inoculation easier.
Available for bottle or hanging connection
Diaphragm valve group (non-pin type), with SIP valve, can be sterilized repeatedly online.
Convenient ingredients and cleaning operations
Equipped with a lifting system, which is convenient for the operator
to prepare the culture medium and clean internal tank.
High dissolved oxygen, no dead angle design
All wetted parts must not have a right-angle arc design, and the length (neck) of the stop valve or blind cover with the nearest pipe port must be less than 2d (inner pipe diameter). All parts with secondary on-line sterilization pipeline must have the concept of sterilization buffer room, ex. sampling valve (tube), dosing feed tube, transfer tube...
Slot cover automatic lifting system
Micro TIG
Orthodox, professional design increase the life of the equipment, warranty for two years
In the case of non-human and natural disaster damage, the transmission system, mechanical shaft seal and diaphragm valve diaphragm are guaranteed free for two years.
Power-off reset, good air tightness
In case of power failure, keep positive pressure for more than 24 hours,
After the power is restored, each control item will automatically continue the control (maintenance after power failure).
Computer validation and meet 21 CFR Part 11 compliance (FDA, Food and Drug Administration)
The user distinguishes the authority, and the management process of the electronic file ensures the authenticity of the electronic record.
SCADA (supervisory control and data acquisition) data acquisition and monitoring system
Single/multiple version can include plant-wide monitoring for selection
Easy to scale up process
The equipment is from small to large, and customer data analysis is provided as a reference for parameter amplification conditions.
Multi-faceted customized services, in response to increasing complexity or training requirements
Accept customized design and manufacturing, parametric programming, and development of special tanks or training conditions.
Provide professional certification documents (can be produced according to the requirements of cGMP, ISO, ASME BPE grade specifications)
Material certificate, welding record sheet, pressure test report, electrical circuit diagram, P&ID diagram, 3Q (DQ, IQ, OQ) validation documents.
Can be manufactured according to ASME BPE pipe fittings (Tubing & Fitting) specifications
Online real-time troubleshooting, design, manufacturing, assembly, and service sales are all done by Weiju Shenggong, saving time and money
There are steel plates or indication numbers on all kinds of pipe valve fittings and electrical components. You can consult a dedicated person on the line or Line APP to quickly save time and money.
Specifications
Model

Polygerm A

30

Polygerm A

50

Polygerm A

75

Polygerm A

100

Polygerm A

200

Polygerm A

300

Vessel

Nominal volume
liter
30
50
75
100
200
300
Total volume
liter
34
56
82
118
220
320
Working volume
liter (Note 1)
8~25
12~40
20~60
25~80
50~160
80~240

Pressure and material

Inner tank 2kg/cm2, (SUS316L), outer tank 3kg/cm2 (SUS304)

Industrial inspection certificate(CNS9788)

Small pressure vessel qualified
The first type of pressure vessel is qualified

Agitation

Drive

Dry maintenance-free mechanical shaft seal, high torque AC brushless servo motor reducer, automatic feedback speed compensation.

Range rpm

10~1000
8~800
7~700
6~600
5~550
5~500

Impellers top speed

4.4 M/sec
5.2 M/sec
5.1 M/sec
5 M/sec
5.5 M/sec
5.2 M/sec

Electric control box

Stainless steel hairline waterproof control box, 15" touch TFT 65,535 color LCD full-color human-machine interface, PLC main control unit, full-icon dynamic equipment monitoring operation screen, parameter setting screen.
Control system

Sterilization control

In-situ fully-automatic in-situ empty and auto-sterilization procedures.

Temperature control

PT100Ω cooling water +5℃ to 60℃(±0.1℃),

Electric heating stainless steel warm water bucket or plate type steam steam and cooling water control solenoid valve

Speed control

Servo motor drive (±1rpm stepless speed change), automatic feedback speed compensation

Acid-base control

0.00-14.00 pH, HMI touch open control parameters, can choose gas or liquid (e.g ammonia gas or liquid)control, low impedance and co-COM, insulation to prevent interfere, sampling after calibrate online, match with outside pH meter comparison consistent

Dissolved oxygen control

0.0~100.0 / 200.0%, HIMI touch open control parameters, DO CASCADE control strategy,(correspond to speed, vent, second gas, level and feed control strategy)

Ventilation control

2vvm ventilation control, with 0.01μm sterilization filter, float flow meter and Massflow controller (MFC) can control the flow rate or switch manual control.

Pressure control

Automatic tank pressure control system 0.00~3.00kg/cm2 (±0.02kg/cm2) including large Cv exhaust gas proportional control valve

Defoaming control

Foaming signal amplifying and isolating noise circuit, adjustable foam sensing sensitivity, can purchase two-stage defoaming device

Feed control

Continuous or On/Off feeding, metering feeding, pH stat, DO stat feeding strategy, step-sequential feeding strategy.

SCADA

Meet RS232C standard communication interface(or can change to RS422 or RS485), for PC connect and control(Remote control), attached Ethernet port and USB port

Other (Optional)

ORP oxidation-reduction potential display, liquid level display, process water measurement control, fermentation liquid discharge control, electronic scale

Adjustable speed acid-base dosing feed

Tubing bump / set

The pump function can be arbitrarily designated by touching the man-machine, adjustable speed (select manual or computer automatic speed control) or switch emergency stop function. Built-in four sets of adjustable speed peristaltic pumps, additional medicine feeding bottle and air sterilization filter x4 bottle

Automatic lifting unit

The full range of tank covers can be raised and lowered automatically to facilitate tank cleaning (with safety device), using mechanical worm and worm gear to prevent reverse transmission

Other (Optional)

Side-insertion mycelium homogenizer, exhaust gas sterilization filter, exhaust gas foam recovery device, fermentation liquid exhaust gas concentration device, upper spray wall foam breaking ring, liquid surface evaporation shell tube condenser, tank temperature instantaneous heating device, Vent exhaust Gas drainage water collection tank, feeding and medicinal needle device, online extraction and cleaning and repeated sterilization pH, O2 electrode sheath, online sugar meter, automatic sampling device, exhaust gas analyzer, LED light culture system, continuous culture strategy device , Magnetic shaft-sealed stirrer, various culture microorganism carriers, various special culture stirring wings, second gas or oxygen-enriched control system, four gas (air, O2, N2, CO2) system. . . .

Attachments and documents

Material certificate, production control table, welding record table, pressure test report, operation manual, equipment appearance diagram, P&ID diagram, site configuration diagram, electrical circuit diagram, polished surface Ra test report... etc. valid data
Note 1: Will be slightly different depends cn foaming.
Note 2: Detailed specification subject to formal quotation.
Pilot-scale production-grade culture device (Polygerm A series) - Fully automatic control microbial cultivation device
PDF | 3 MB