Biotechnology downstream process equipment
Low Temperature Drying Concentration Equipment (BioDryer Series)
Name
MGB-BD200
MGB-BD500
MGB-BD1k
MGB-BD2k
MGB-BD3k
MGB-BD5k
Total Volume
200L
500L
1,000L
2,000L
3,000L
5,000L

Working Volume
(about 65%)

130L
325L
650L
1,300L
1,950L
3,250L

Draining Speed
(Calculate by Water)

25℃
12L/hr
12L/hr
15L/hr
40L/hr
50L/hr
60L/hr
30℃
25L/hr
25L/hr
30L/hr
80L/hr
100L/hr
130L/hr
60℃
30L/hr
30L/hr
40L/hr
100L/hr
120L/hr
160L/hr
Powder to Liquid Ratio(1:1)

7

0kg:70kg
175kg:175kg
350kg:350kg
700kg:700kg
1 ton:1 ton
1.75 ton:1.75 ton
Note:
1. The test data is based on city water inside and the condenser of exhaust pipe needs to provide chilling waterbelow 6℃ as cooling source.
The actual drying efficiency is about 50%~80%, depends on the characteristic of the material.
2. The material character effects a lot to the drying temperature which is between 25 ℃ ~ 30 ℃.
Some of powder material can't operate between the interval.
High-speed mixing Can mix more than two kinds of powder(also break big conglomeration).
Inoculation Continuous or intermittent. Use large flow spray to spurt the bacterial liquid into the powder even.(The nebulization is adaptable.)(Can collocate mobile vaccinate tank, for bacteria refrigeration, homogeneous-cut off hypha or mix complex bacteria.) Bacterial and liquid weight proportion can reach 1:2.
Vacuum Drying Concentration 40 Torr High vacuum drying up to 45℃ (or under 15 Torr super high.vacuum drying down to 30℃.) Dry to under 8% moisture rate.
Unit Volume Maximum Capacity The process Capacity is 15~20 times better than tranditional granulating machine or spray dryer.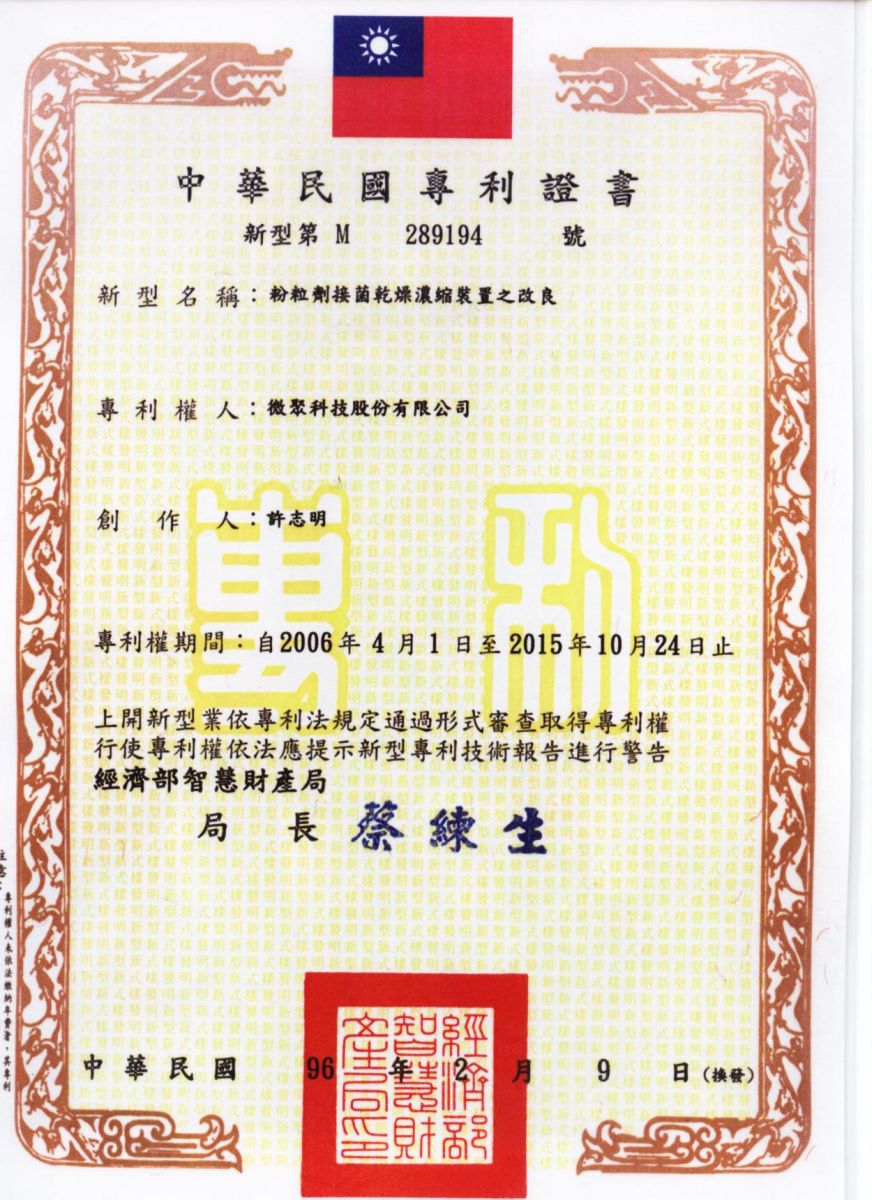 Patent License: Taiwan M289194
Patent License: China ZL 2006 2 0000487.4