Lab Scale Microbial Cultivation Equipment (Polycel Series)
Benchtop Lab Scale Microbial Cultivation Equipment
EU Safety Regualations Certificate Validation
EU Safety Regualations Certificate Validation
Features:
Combining a variety of configurations and combinations, it is widely and flexibly applied to various types of suspension culture microorganisms or cells in the laboratory.
A variety of open parameter settings, more accurate setting of suitable training modes and conditions.
Powerful touch man-machine interface, full-color graphic control visual intuitive control interface.
Equipped with a USB external port, you can easily download real-time records, alarms or upload historical records for online real-time comparison.
The controller in the same seat supports different types of tanks, switching to culture microorganisms or cells.
Diversified cultivation methods: batches, feeding batches, semi-continuous, continuous, and perfusion.
A variety of ventilation strategies are suitable: microbial aerobic, anaerobic, micro-anaerobic culture and cellular Four gas.
With the experiment table, you can choose horizontal or vertical configuration
Cultivation subject:
Microorganisms, bacteria, fungi, yeasts, algae, animal cells, insect cells, plant cells and relative primary secondary metabolism or protein performance.
Controller expansion and configuration:
A variety of style combinations, flexible expansion and configuration, all stainless steel hairline shell.
Tanks and stirring wings:
In response to the increasingly complex special experimental needs, we provide a wide range of design services. Accept customized design and manufacture, parametric programming, and special tank development to speed up the experiment.

EU Safety Regulation Certificate
Machinery Directive/ Low Voltage Directive
Quality and safety are guaranteed, durable and maintenance-free
The tank glass adopts American PYREX/Germany SCHOTT advanced heat-resistant glass.

Professional design, suitable for the growth of all kinds of microorganisms
Bottom arc design, especially suitable forfungiorhyphae, effectively sweeping the bottom to prevent the stagnant material accumulation area or the hyphae entanglement and sticking phenomenon.

Bottom arc design
Ring Sparger
Micro Sparger
Completely empty inside after pick up heatplate. The heatplate and bottom plate both did passivated, three manual mechanical polishing, and finally EP (Electrolytic Treatment) on the surface (Ra<0.42μm)
A variety of mixing wing designs, and coating anti-sticking treatment is also available.
The patented downward suction dispersive stirring blade increases the retention time of dissolved oxygen and effectively increases the amount of dissolved oxygen. The minimum stirring speed is 1rpm. Low-shear stirring, with intelligent AI program-controlled setting of various cultivation parameters, is especially suitable for the cultivation of lactic acid bacteria at low stirring speed after the initial resting and various high-density cultivation or delicate fermentation (secondary metabolites) induction.
Human-machine interface and SCADA software:
3D real-time dynamic operation interface

- humanized and friendly graphic control interface, real-time action icon effect, real data display record, almost no operation manual, reducing the occurrence of misoperation.

Online real-time Trend Datalog and historical Trend comparison

- the screen line can be zoomed in or out, for real-time full-page or detailed line-type observation and comparison. The USB flash drive is quickly downloaded into xls format, which can be accessed or analyzed directly online.

Online real-time record

- Online real-time record Alarm and operation record

Large-capacity step sequence (50 steps) gradient setting, automatic control can be reserved for correct reproduction

- each culture condition control item has an independent 50 step and each has 50 sets of equations (effectively achieve detailed segmentation control, which is a Function function type) Control the previous period data to be formulated). Support USB access to memory to download or upload recipes, and there is no limit to the number of groups.

The man-machine interface supports the VNC system

- Free VNC APP software download, remote monitoring can be performed immediately after wireless Wifi or Internet connection, suitable for smart phones, tablets, laptops, and PCs. Wiring-free does not require the purchase of remote computer remote control software.

Computer validation

- another project production for GAMP5 FDA21 part11 electronic signature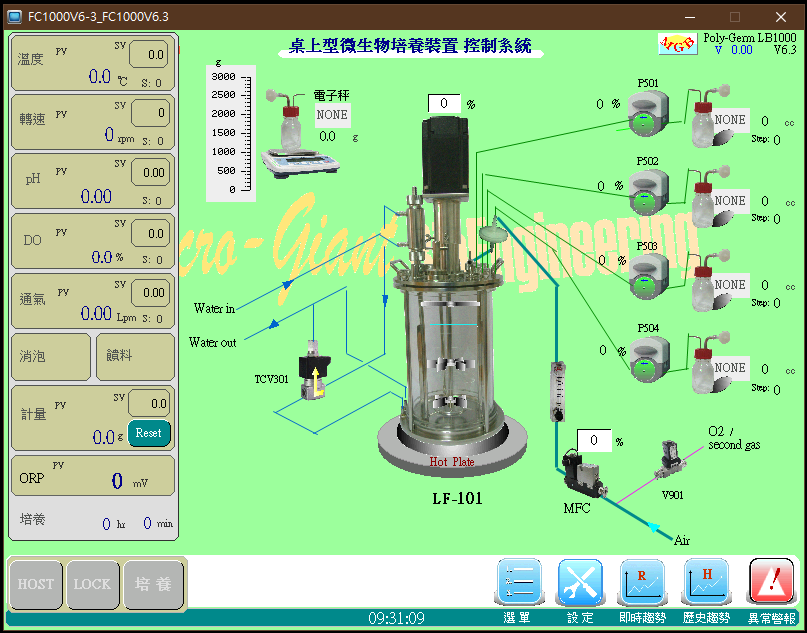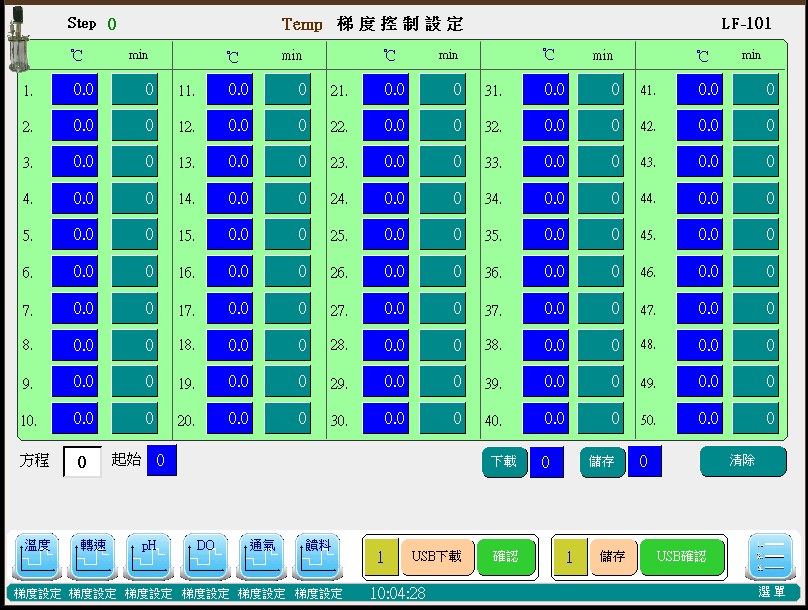 Model

Polycel 500
Polycel 750
Polycel 1000

Total volume

5.0 liter
7.5 liter
10.0 liter
Working Volume

(Note 1)

1.3~4.0 liter
2~6.0 liter
2.5~8.0 liter

Tank N.W.

9 kg
10.5 kg
11.5 kg

Dimensions

External diameter

(Note 2)

196 mm
220 mm
245 mm
with condenser

(Note 2)

460 mm
640 mm
570 mm

with driving seat

(Note 2)

400 mm
450 mm
520 mm

Controller

Touch panel HMI

TFF 10" industrial color touch screen digital monitor

(attached USB port can insert USB online for datalog)

Agitation

Drive

Dry mechanical seal, small AC brushless servo motor 750w, auto-feedback speed compensation, low speed high torque

Range

1-1,200 rpm (adjustable wide range/activate when high and low speed) +1 rpm

Inpellers

Turbine-type 6 wings x 2sets (45°, 90°) and antifoaming impeller x1set

baffle x3sets(SUS 316L.)Variety impellers for optional

Turbine top speed

4.8 M/sec
5.5 M/sec
6.0 M/sec

Control

HMI open control parameter (can set P,I,TC, MAX voluntarily), ENCODER speed detection

auto-fecdback, torque compensation to prevent stall, speed acceleration and deceleration

Aeration

Flow adjustment system

Rotameter 0-10 nL/min or massflow controller (optional)

Inlet filter

0.2μm PTFE

pH

Function

Online pH calibration and compensation shift (touch panel HMI)

Range & Control

0.00-14.00 pH, HMI touch open control parameters, can choose gas or liquid (e.g ammonia gas or liquid)control, low impedance and co-COM, insulation to prevent interfere, sampling after calibrate online, match with outside pH meter comparison consistent

DO

Function

Online DO calibration and SPAN2

Range & Control

0.0-200.0%, HIMI touch open control parameters, DO CASCADE control strategy,(correspond to speed, vent, second gas, level and feed control strategy)

ORP

Optional

+ 1,200mV, ORP signal amplification /Noise isolation circuit

Other electrodes

Antifoam

Foaming signal amplification /Noise isolation circuit/ sensitivity adjustable

Temperature Standard/Optional

PT100Ω cooling water +5℃ to 60℃ (±0.1℃) / can increase to 80°C

Pumps

Standard/Optional

4 bulit-in/ assignable (auto/manual speed switch)/ Suitable for 4 different

I.D.(0.8 · 1.2 · 3.6 · 4.8)Silicon tube/2 external pumps can be added

Loadcell

Optional

Can expand 1 set 0~3kg weigh record, for conditional feeding

Electric requirement

220V · Single Phase 7A

Communication record

COMM. port

Meet RS232C standard communication interface(or can change to RS422 or RS485),

for PC connect and control(Remote control), attached Ethernet port and USB port
Note 1: Will be slightly different depends on foaming.
Note 2: The dimensions are considered for putting in autoclave and laminar flow.
Note 3: Detailed specification subject to formal quotation.
Lab Scale Microbial Cultivation Equipment (Polycel Series)
PDF | 4 MB